Whether a smaller company is in a start-up situation, looking to expand or needing to consolidate its position, high quality professional business advice is an absolute necessity.
Yet the usual sources of that advice can provide their own set of problems.
Employing an accountant, company secretary or financial director of the right calibre will prove a hefty financial burden which the company may not be in a position to bear, particularly if it is not yet large enough to need a full-time in-house accountant.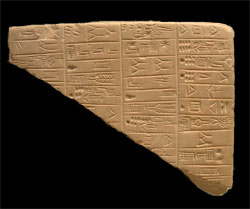 Sumerian stone tablet listing land purchases, circa 2400BC
The other option is to turn to a specialist firm of chartered accountants. Qualified, unbiased, professional advice, available and costed in a way that means paying only for services as and when they are used.
But even this solution is not necessarily ideal. It is difficult to select a firm which will respond to your immediate and changing needs. Will a small partnership have the necessary breadth of experience? Will a larger firm even trouble to return your phone call when you need the right answers fast? Will you find someone who can really understand your business and offer true insight with personal service?
Fortunately there is an easy way around these potential pitfalls.
At Wyatts, we believe that a team approach with our clients is the best way for both parties to achieve success. This is no hollow boast. Our partners have the breadth and depth of both practice and industry experience often only found in large firms. Our concept of client service means that although you are welcome to visit our offices, we will come to you in a real effort to understand your business at its roots. We will return your phone calls and make every effor to deal with your queries as promptly as possible. If a partner is unavailable for any reason, we will let you know that and make sure they receive your messages.
Couple this approach with the range of professional services detailed overleaf and you will see why Wyatts are offerening an ever-increasing number of clients the kind of impartial advice and service that you doubted you could afford.