Services
Management Consultancy
Fixed monthly fee management consultancy from Wyatts incorporates monthly or quarterly management accounts, cash flow forecasts, revisionary budgeting and maintenance of contact with bankers - a vital service which dovetails with our other services to provide an all round package.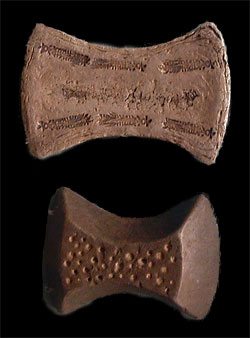 Chinese silver tax ingots, 12th - 13th Century
Accountancy
The basic machinery which should work in the background freeing you from time-consuming administration yet providing you with the information you need to make the right decisions. Wyatts' computerised system means that we can offer a fully automated package to encompass both timely management accounts and all payroll requirements.
Audits
Wyatts are Registered Auditors registered with the Institute of Chartered Accountants. The legal requirement to file annual accounts is often seen as an unpalatable chore. Yet what is often missed is the real opportunity to review and to plan for the year ahead. At Wyatts we ensure that this opportunity is exploited to its full potential.
Information Technology
Wyatts can advise on the purchase of suitable PC-based accountancy software and set up a system that will be both cost-efficient and tailored to your precise requirements.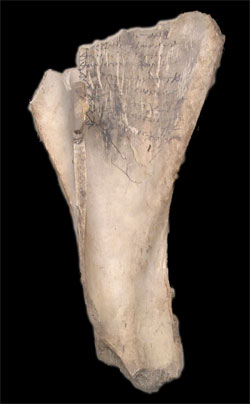 Egyptian loan record made on shoulder blade of an ox.
Financial Planning
By assisting in defining your business objectives and providing strong financial control, Wyatts can make a full and effective contribution to your continued growth and success. We can help to ensure proper utilisation of existing resources and advise on and arrange finance where necessary. An initial meeting with us can be extremely valuable and give you an insight into the many ways in which our experience may be able to help you.
Company Secretarial
Fulfillment of statutory requirements such as the preparation of minutes, company formation and annual returns - we can take over these tasks to ensure that all runs smoothly both now and in the future. Advice on company law is another related area of special expertise.
Start-up Advice
Time spent with Wyatts in preparation of a sound business plan can smooth the path to a successful launch. We will guide you through the main considerations of market research, location selection, finance options, VAT registration advice, business status and dealing with the Inland Revenue and other relevant authorities. Later on, the proper financial controls which we can build in for you from the start will contribute to your business efficiency and expansion.
Taxation
Wyatts assist with professional advice on routes to increased tax efficiency - both business and personal. Even and initial consultation could point the way to immediate savings. Putting yourself fully in our hands means you have year-round access to our knowledge and experience.
One phone call or email from you to arrange an initial meeting is all that is required to put the expertise of Wyatts at your complete disposal. Call us now on 020 7386 7980.